KINK USE AND RECOMMEND KEUNE PRODUCTS
KEUNE
Founded in 1922 by Dutch chemist Jan Keune. Keune is still a family owned and operated company. All Keune products are suitable for vegans as the ingredients are either plant-derived or synthetic. None of Keune's products are tested on animals and are cruelty free. As a company, they uphold ethical and moral standards.
KEUNE FOUNDATION
Hans and Theresa van der Velden, owners of Keune Australia & NZ wanted to find a lasting way to give back to our society. In 2005 The Keune Foundation was established providing emotional support and financial assistance to Australian families when one of their children is diagnosed with a life-threatening illness.
Keune donates 10cents to the foundation for each tube of Tinta Colour used in salons across Australia and organize the Keune Annual Foundation Ball raising money through silent auctions and donations.
KINK & KEUNE PERFECT PARTNERS
Complete your after care with the same high quality products we use in salon.  You can now have the convenience of salon quality products delivered to your door.
Click 'order now' to get Keune delivered to your door.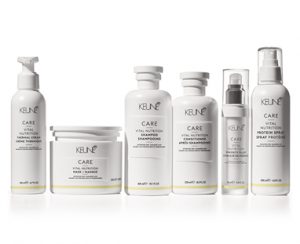 CARE LINE
Essential Minerals for Healthy Hair
Care Line nourishes the hair and helps to balance the natural function of the scalp with 5 key Essential Minerals from natural sources, which work together to provide long-lasting results. Hair becomes silky, smooth and easy to manage. The Care Line range offers a 3-step process of cleansing, nourishing and styling.
All products are colour safe and use a combination of specialised technologies:
Essential Minerals:
•  Zinc
•  Copper
•  Silicium
•  Iron
•  Magnesium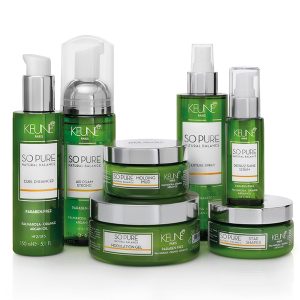 SO PURE
Natural Balance 100% Pure Plant Extracts
Following many years of intensive research, KEUNE's So Pure Natural Balance range utilizes 100% pure plant essential therapy to create a truly sensorial experience of well-being and relaxation for mind, body & soul. The range has been enriched with over 30 plant extracts and organic essential oils, each hand-selected for a special purpose and are the only active ingredients within the range.
The So Pure Natural Balance range is:
•  Paraben & Sulfate Free
•  Contains no artificial fragrances or colours
•  Contains no animal related materials
•  Not tested on animals
•  100% Colour Safe
So Pure Natural Balance embraces the knowledge of Phytotherapy, Aromatherapy and Homeopathy to create healthy, shiny hair through a well-functioning scalp.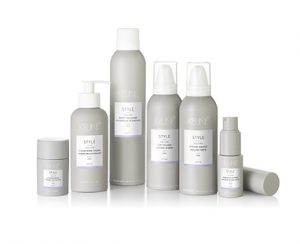 STYLE RANGE
Style offers a complete professional and home care range for styling, finishing and care. Style and finish products provide diversity in texture, hold and shine protecting hair from UV rays and heat damage. Each product individually nourishes, protects and strengthens hair from the inside out.
Uncomplicated, timeless and super-effective, the Style product lines include Curl, Heat Protect, Smooth, Volume, Texture, Gloss, Refresh and Fix. Lovingly invented to texturize, tame, smooth, set and more – made to realize every hair goal.
All Style products contain innovative technology:
•  Double Layer Protection system
•  LP300 Colour Stabilizer
•  Natural Sea Silk
•  Organic Argan Oil
•  Grape Seed Extract
•  Vitamins B5 & E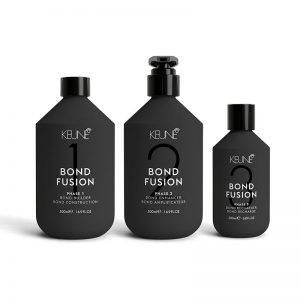 BOND FUSION
In salon service & take home treatment
Bond Fusion is a premium treatment that allows clients to go lighter and brighter without compromising the integrity of their hair. Chemical processes like colouring or forming treatments break down disulphide bonds that are essential for healthy hair. But that's where Bond Fusion comes in, repairing and rebuilding broken bonds, even creating new ones. It also protects the inner structure of each strand.
Phase 3: Bond Recharger – Take home treatment
The perfect home maintenance product that prolongs the effect of your Bond Fusion in-salon treatment and continues to protect your hair from thermo-styling damage, environmental damage and helps to strengthen your hair for your next in-salon chemical process.
CLOUD NINE
Altogether Kinder Styling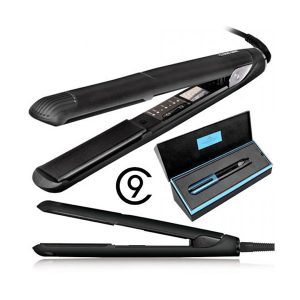 THE IRONS
Add shine & sparkle to every style
Cloud Nine irons put you in control, whatever your hair type, whatever your style.
Whether you want to create smooth and sleek styles, movement, curls, or achieve the perfect straight look, there's an iron for your hair. From the one-touch temperature control to the hibernation mode and swivel cord; our straighteners deliver everything you need to style your hair professionally and easily.
•   The Original Iron
•   The Wide Iron
•   The Micro Iron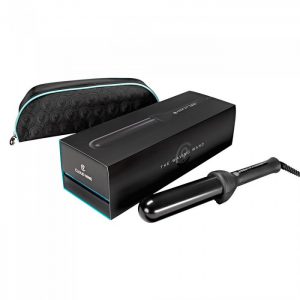 WANDS
Wave & Curl
Curls you've only ever dreamt of…
The Cloud Nine wands are designed to give professional curls, whatever your hair type, whatever your style.
Unlike other wands, the Cloud Nine wands give you the ability to create any style of curl with options to suit any hair type. From one-touch temperature control through to ceramic coated barrels that feature patented heat technology, each wand gives you complete freedom to create large loose waves through to tight curls and everything in-between.
•   The Wand
•   The Micro Wand
•   The Waving Wand
•   Black Wand Glove – heat protective glove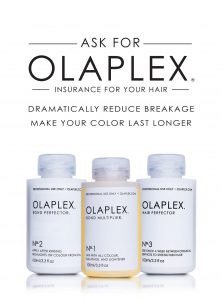 In salon service & take home treatment
Olaplex is the original, unique and patented chemistry that multiplies bonds and cross-links broken bonds.
The Olaplex system is a three step service:
Firstly, the Bond Multiplier No.1 is added to our professional colour product whilst developing, working to multiple and rebuild bonds that are broken to strengthen and maintain the integrity of your hair during the colour process.
Then the No.2 Bond Perfector is applied to your hair after the colour process to restore elasticity and structure.
Olaplex Hair Perfector No.3 – take home treatment
Much more than a conditioning treatment, Olaplex is reparative … it can benefit those who have damage due to other chemical treatments and hair that is suffering from thermal damage from styling tools or in preparation for your colour service.
By repairing broken bonds, Olaplex is returning your hair to its natural state. That means it will help reduce frizz, dullness, and even make curls more defined.
"Used once per week Olaplex will continue to strengthen the bonds of your hair during salon visits."

Olaplex No.0 Intensive Bond Building Treatment
Primes hair to absorb nourishment for maximum repair
A professional-inspired treatment that primes hair for deeper repair with the highest dose of patented OLAPLEX technology in any take-home product. It rebuilds hair bonds, strengthens and protects hair integrity. Use as the first step in a two-part system with N°.3 Hair Perfector.
Scientifically Proven:
68% more repair & 3x stronger hair*
*When used as a two-part system in just one use.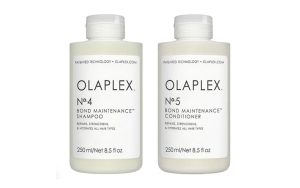 Olaplex No.4 Bond Maintenance Shampoo
Olaplex No.4 Bond Maintenance Shampoo is a highly-moisturizing shampoo that protects and repairs damaged, split-ends and frizzy hair by re-linking broken bonds. It has been proven to reduce breakage and strengthen all hair types. No.4 is a reparative shampoo that gently cleanses, leaving hair easy to manage, shiny and healthier with each use.
Olaplex No.5 Bond Maintenance Conditioner
Olaplex No. 5 Bond Maintenance Conditioner is concentrated with natural and unique ingredients that provides weightless moisture, unbelievable texture and manageability. No.5 repairs damaged hair, split ends and frizz by re-linking broken bonds. Formulated with Olaplex Bond Building chemistry to restore, repair and hydrate, leaving hair stronger than ever.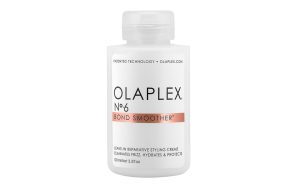 Olaplex No.6 Bond Smoother
Olaplex No.6 Bond Smoother is a concentrated leave-in smoothing cream for all hair types especially coloured and chemically treated hair. No.6 strengthens, hydrates, moisturises and speeds up blow dry times while smoothing. Eliminates frizz and flyaways for up to 72 hours.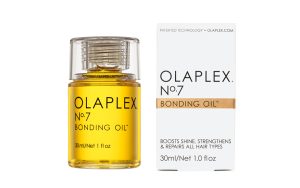 Olaplex No.7
A highly-concentrated, weightless reparative styling oil. Dramatically increase shine, softness, and color vibrancy. Minimizes fly-aways and frizz. Provides heat protection of up to 450°.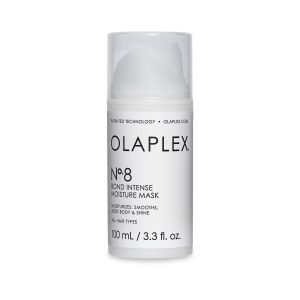 Olaplex No.8 Bond Intense Moisture Mask
A Multi-Benefit, Reparative Hair Mask
Infused with patented OLAPLEX Bond Building technology, this highly concentrated reparative mask adds shine, smoothness & body while providing intense moisture to treat damaged hair. Hair so visibly healthy, you can skip the styling.
Based on Clinical Results:
2x Shine*
4x Moisture*
6x Smoothness* and
94% saw more Body**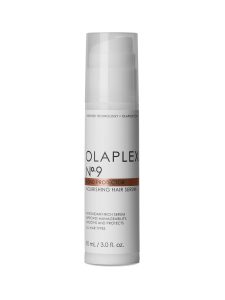 Olaplex Nº. 9 Bond Protector Nourishing Hair Serum
The anti-damage hair shield.  Protect your hair from daily damage with this weightless, leave-in, silicone-free hair serum to shield hair from pollution for 48 hours and provide heat protection up to 450°F (232°C).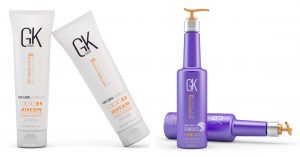 GK Hair is the first and only company to harness the beauty benefits of Juvexin. Derived from pristine sheep wool through an environmentally friendly process. Juvexin is nonhydrolyzed, it contains intact keratin and consists of both large and small molecules. The smaller Juvexin molecules penetrate the cortex, improving and restoring hair from the inside out while the larger molecules wrap around the cuticle creating a protective shield against free radicals such as UV rays. This process returns the hair to a more youthful manageable state.
Juvexin Smoothing Treatment
The best way to tame and manage hair without the harsh chemicals. This intelligently designed smoothing system reduces the elastic modules of the hair while doing so it causes a softening effect causing the hair to lose its natural curl and feel softer. Juvexin smoothing Treatment can last up to 3 months.
Juvexin Deep Conditioning Treatment
Almost like a taste test for the big smoothing system this in salon deep conditioning treatment delivers divine moisture and nourishment. With a concentrated dose of Juvexin it restores the hair from the inside out, returning it to a more youthful state. You can expect soft shiny frizz free hair for up to 7 days.
Miami Hot Bombshell Masque
A luxurious blonde repair masque which neutralises unwanted brassy tones while intensely moisturising the hair.
What our clients say
I LOVE Kink! Thank you Aurora for helping me make the best choices for my hair. It has NEVER EVER felt better
These girls are all great. They are friendly truthful and don't cost a fortune. I couldn't recommend them more.
Had the kink girls come out and do our hair for my wedding. The girls catered to the different bridesmaids needs and were lots of fun. They were even happy to help out granny who needed some last minute help styling her "do".
Kink the best salon on the south coast, wouldn't go anywhere else; as I walk out every time with a big smile and of course great hair. All girls are creative, helpful, bubbly and friendly which makes my visit enjoyable. Keep up the great work girls