KINK USE AND RECOMMEND KEUNE PRODUCTS
KEUNE
Founded in 1922 by Dutch chemist Jan Keune. Keune is still a family owned and operated company. All Keune products are suitable for vegans as the ingredients are either plant-derived or synthetic. None of Keune's products are tested on animals and are cruelty free. As a company, they uphold ethical and moral standards.
KEUNE FOUNDATION
Hans and Theresa van der Velden, owners of Keune Australia & NZ wanted to find a lasting way to give back to our society. In 2005 The Keune Foundation was established providing emotional support and financial assistance to Australian families when one of their children is diagnosed with a life-threatening illness.
Keune donates 10cents to the foundation for each tube of Tinta Colour used in salons across Australia and organize the Keune Annual Foundation Ball raising money through silent auctions and donations.
KINK & KEUNE PERFECT PARTNERS
Complete your after care with the same high quality products we use in salon.  You can now have the convenience of salon quality products delivered to your door.
Click 'order now' to get Keune delivered to your door.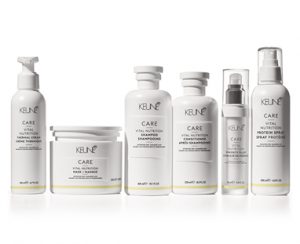 CARE LINE
Essential Minerals for Healthy Hair
Care Line nourishes the hair and helps to balance the natural function of the scalp with 5 key Essential Minerals from natural sources, which work together to provide long-lasting results. Hair becomes silky, smooth and easy to manage. The Care Line range offers a 3-step process of cleansing, nourishing and styling.
All products are colour safe and use a combination of specialised technologies:
Essential Minerals:
•  Zinc
•  Copper
•  Silicium
•  Iron
•  Magnesium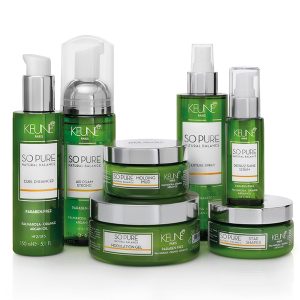 SO PURE
Natural Balance 100% Pure Plant Extracts
Following many years of intensive research, KEUNE's So Pure Natural Balance range utilizes 100% pure plant essential therapy to create a truly sensorial experience of well-being and relaxation for mind, body & soul. The range has been enriched with over 30 plant extracts and organic essential oils, each hand-selected for a special purpose and are the only active ingredients within the range.
The So Pure Natural Balance range is:
•  Paraben & Sulfate Free
•  Contains no artificial fragrances or colours
•  Contains no animal related materials
•  Not tested on animals
•  100% Colour Safe
So Pure Natural Balance embraces the knowledge of Phytotherapy, Aromatherapy and Homeopathy to create healthy, shiny hair through a well-functioning scalp.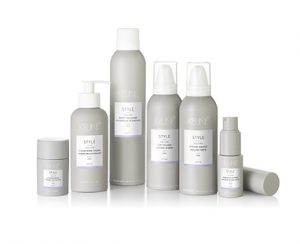 STYLE RANGE
Style offers a complete professional and home care range for styling, finishing and care. Style and finish products provide diversity in texture, hold and shine protecting hair from UV rays and heat damage. Each product individually nourishes, protects and strengthens hair from the inside out.
Uncomplicated, timeless and super-effective, the Style product lines include Curl, Heat Protect, Smooth, Volume, Texture, Gloss, Refresh and Fix. Lovingly invented to texturize, tame, smooth, set and more – made to realize every hair goal.
All Style products contain innovative technology:
•  Double Layer Protection system
•  LP300 Colour Stabilizer
•  Natural Sea Silk
•  Organic Argan Oil
•  Grape Seed Extract
•  Vitamins B5 & E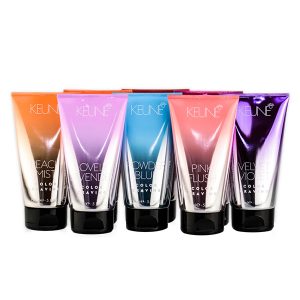 COLOUR CRAVINGS
A collection of 8 temporary on-trend fashion shades with 4 Soft Pastels & 4 Vibrant Vivids specially designed to fade gradually from the hair, they are nourishing and conditioning used as home maintenance to support the longevity of your colour work.
•  Passionate Pink
•  Pink Flush
•  Cardinal Red
•  Peach Mist
•  Sunset Copper
•  Lovely Lavender
•  Velvet violet
•  Powder Blue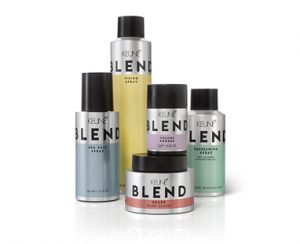 BLEND
A collection of styling products to create a style to suit every mood, mode and moment. That's where Blend comes in. It's top-shelf mixology for hair that's going places. Smooth it, crunch it, pin it up – however you wear it, do it your way.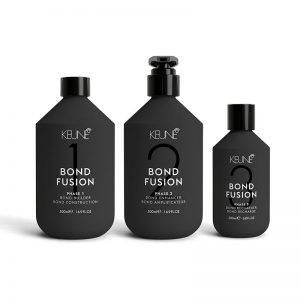 BOND FUSION
In salon service & take home treatment
Bond Fusion is a premium treatment that allows clients to go lighter and brighter without compromising the integrity of their hair. Chemical processes like colouring or forming treatments break down disulphide bonds that are essential for healthy hair. But that's where Bond Fusion comes in, repairing and rebuilding broken bonds, even creating new ones. It also protects the inner structure of each strand.
Phase 3: Bond Recharger – Take home treatment
The perfect home maintenance product that prolongs the effect of your Bond Fusion in-salon treatment and continues to protect your hair from thermo-styling damage, environmental damage and helps to strengthen your hair for your next in-salon chemical process.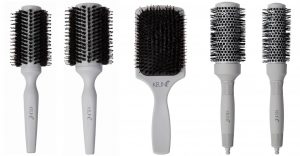 KEUNE STYLE BRUSH RANGE
Ceramic radial brushes
High heat-resistant styling brushes for quick, easy blow-drying. Vent holes in the barrel allow heat from the blow-dryer to circulate at the roots, creating more volume.
Bristle radial brushes
Styling brushes for blow-drying, creating volume, stretching and smoothing while distributing natural oils and polishing the hair. Featuring natural boar and pin bristles to stimulate the scalp and reduce frizz.
Boar & pin bristle paddle brush
Multi-purpose styling and grooming tools for use on all hair types, but particularly well suited for smoothing and detangling hair, distributing natural oils and polishing the hair.
CLOUD NINE
Altogether Kinder Styling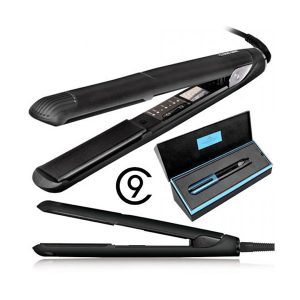 THE IRONS
Add shine & sparkle to every style
Cloud Nine irons put you in control, whatever your hair type, whatever your style.
Whether you want to create smooth and sleek styles, movement, curls, or achieve the perfect straight look, there's an iron for your hair. From the one-touch temperature control to the hibernation mode and swivel cord; our straighteners deliver everything you need to style your hair professionally and easily.
•   The Original Iron
•   The Wide Iron
•   The Micro Iron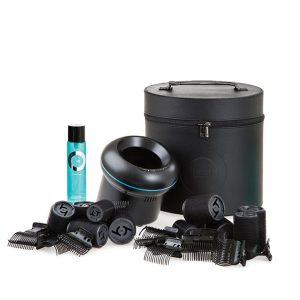 THE O
Volume & Body
How much volume can you handle?
The O by Cloud Nine is a ground-breaking innovative heated roller system; the perfect tool to create body, volume and movement for any hair type.
The O rollers heat up in less than four seconds, and thanks to the unique induction heating system, they heat from the core, so they're hot in the hair, not in the hand. Soft grip technology eliminates the need to use pins to hold the hair in place; making them even more convenient to use. Reaching a maximum temperature of 120 degrees, the rollers begin to cool in the hair, giving hold, definition and shine. The O allows you to create looks that are full of body, volume and movement with several sizes of roller to choose from.
•   The O Gift Set – Black
•   The O Pod
•   The O Rollers (Each pack contains 4 rollers)20,30,40,50 and 60mm
•   The O Clips (Each pack contains 4 clips)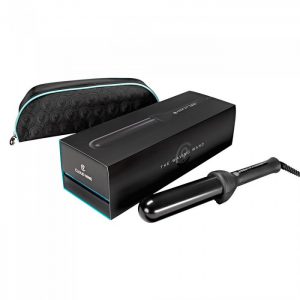 WANDS
Wave & Curl
Curls you've only ever dreamt of…
The Cloud Nine wands are designed to give professional curls, whatever your hair type, whatever your style.
Unlike other wands, the Cloud Nine wands give you the ability to create any style of curl with options to suit any hair type. From one-touch temperature control through to ceramic coated barrels that feature patented heat technology, each wand gives you complete freedom to create large loose waves through to tight curls and everything in-between.
•   The Wand
•   The Micro Wand
•   The Waving Wand
•   Black Wand Glove – heat protective glove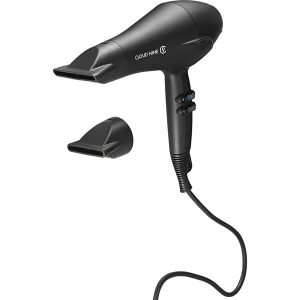 HAIR DRYER
Styling
Your glossiest finish ever …
The Cloud Nine Airshot Hairdryer is a powerhouse that cares for your hair while you style. Designed for professional use, Cloud Nine's new hair styling workhorse reduces the amount of frizz, static, while boosting your hair's natural silkiness for your glossiest finish ever.
With new top of the line technology, Cloud Nine The Airshot Hairdryer features tourmaline and vitamin-infused ceramic heat elements reduces negatively charged particles that the hair is exposed to, for lustrous hair that is free from static and frizz.
• The Airshot
• 60mm Nozzle
• 75mm Nozzle
• The Diffuser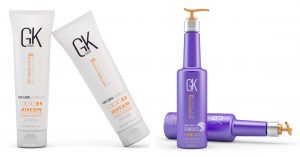 GK Hair is the first and only company to harness the beauty benefits of Juvexin. Derived from pristine sheep wool through an environmentally friendly process. Juvexin is nonhydrolyzed, it contains intact keratin and consists of both large and small molecules. The smaller Juvexin molecules penetrate the cortex, improving and restoring hair from the inside out while the larger molecules wrap around the cuticle creating a protective shield against free radicals such as UV rays. This process returns the hair to a more youthful manageable state.
Juvexin Smoothing Treatment
The best way to tame and manage hair without the harsh chemicals. This intelligently designed smoothing system reduces the elastic modules of the hair while doing so it causes a softening effect causing the hair to lose its natural curl and feel softer. Juvexin smoothing Treatment can last up to 3 months.
Juvexin Deep Conditioning Treatment
Almost like a taste test for the big smoothing system this in salon deep conditioning treatment delivers divine moisture and nourishment. With a concentrated dose of Juvexin it restores the hair from the inside out, returning it to a more youthful state. You can expect soft shiny frizz free hair for up to 7 days.
Miami Hot Bombshell Masque
A luxurious blonde repair masque which neutralises unwanted brassy tones while intensely moisturising the hair.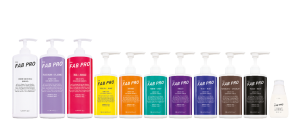 EVO FAB PRO
Fab Pro gives you the power to perfectly match and maintain any hair colour, in-between salon visits with a customised colour maintenance conditioner.
MATCH IT  •  MIX IT  •  TAKE IT AWAY
Customised Colour Maintenance
Fab Pro direct dyes can be used to create customised colour maintenance conditioners that perfectly match and maintain any permanent, demi and semi-permanent colour in-between salon visits.
Colour Services
Fab Pro direct dyes can be mixed together to create an unlimited array of semi-permanent colours with natural tone and shine to: colour refresh, colour fill and colour tone/pastels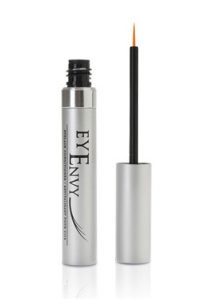 EYENVYTM CONDITIONER
EyEnvyTM is a breakthrough formula that improves the length, volume and thickness of your eyelashes and eyebrows. Clinical studies has shown that EyEnvyTM helps improve the length and density of your own natural lashes, and users were excited to see an improved appearance of their eyelashes and eyebrows in only 4-6 weeks.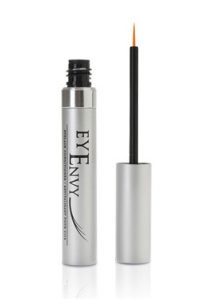 EYENVYTM MASCARA INTENSE
Repair, condition and get volume all in one! EyEnvyTM INTENSE conditioning mascara will be the perfect complement to give you longer, fuller and VOLUMIZING lashes with the addition of peptides that help nourish and protect your lashes. EyenvyTM INTENSE mascara creates a dramatic impact on the lashes, leaving you with nothing but glamourous eyelashes!.
With the addition of Myristoyl Pentapeptide-17 (a keratin boosting peptide), our formula not only conditions and provide great volume, but helps in the lengthening and strengthening of your own natural lashes. Our brush's crisscross design separates each lash working on volume and thickness. EyenvyTM INTENSE mascara has the best of both worlds, why would you use anything else!.
What our clients say
I LOVE Kink! Thank you Aurora for helping me make the best choices for my hair. It has NEVER EVER felt better
These girls are all great. They are friendly truthful and don't cost a fortune. I couldn't recommend them more.
Had the kink girls come out and do our hair for my wedding. The girls catered to the different bridesmaids needs and were lots of fun. They were even happy to help out granny who needed some last minute help styling her "do".
Kink the best salon on the south coast, wouldn't go anywhere else; as I walk out every time with a big smile and of course great hair. All girls are creative, helpful, bubbly and friendly which makes my visit enjoyable. Keep up the great work girls